Savings Program

PRINT PATIENT SAVINGS CARD HERE
Start With OWP Lamotrigine
Ask your doctor to write lamotrigine (orange, blue or green) starter kit on your prescription so you'll receive an OWP lamotrigine starter kit at the pharmacy. If you have private insurance, pay as little as $25 for your starter kit. If your insurance does not cover the starter kit, or you pay cash, get $100 off your lamotrigine starter kit.
Present this saving card (either printed OR on your mobile device) along with your lamotrigine starter kit prescription to the pharmacist and request OWP lamotrigine starter kit.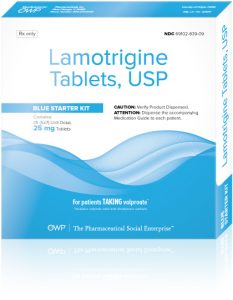 Talk to your prescribing physician to see if Lamotrigine is right for you.

Before you fill your prescription, make sure your pharmacy has OWP Lamotrigine Starter Kits in stock; if not, you can request it. The savings card can only be used for OWP Lamotrigine Starter Kits.
Mail Order:

If you are a patient with a prescription for a Lamotrigine Starter Kit, it can be purchased through your local pharmacy. If you are a cash paying patient you can order online through our mail order, which includes free overnight shipping!
Program Restrictions: Void where prohibited by law. Not valid for a OWP Lamotrigine prescription reimbursed in full by any third-party payer. May not be combined with any other coupon, discount, savings card or other offer. May not be accepted at all pharmacies. Starter Kit: Limited to one prescription per person for any 35 day period. The maximum benefit is $100 per 35-day starter kit prescription. No substitutions permitted. This offer may be terminated, rescinded, revoked or amended by OWP Pharmaceuticals, Inc. at any time, without notice.
Contact Info:
Phone: 1-800-273-6729
If you have any questions, please contact us at info@owppharma.com
If you require further medical information, please contact us at medinfo@owppharma.com
If you want to report any adverse events, please contact us at safety@owppharma.com
OWOS1028V1 10/17