Why Start With OWP Lamotrigine Starter Kits?
Write only one prescription for a 5-week starter kit
Kit comes with a week-by-week blister pack with perforated daily dosing for on-the-go use
With savings card, patients with commercial insurance can get an OWP Lamotrigine Starter Kit at a significantly lower cost than Lamictal®
Proceeds from each OWP Lamotrigine Starter Kit prescription help treat people with psychiatric and neurological disorders in under-resourced areas globally
It's Just 3 Easy Steps
1. Go over 5-week patient titration Physician Education Tool
2. Write Lamotrigine (Orange Blue or Green) Starter Kit
Your EHR may allow you to attach the OWP Lamotrigine Starter Kit co-pay card and send it with the e-prescription directly to the pharmacy.
Download Card Here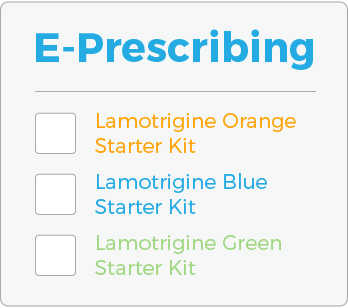 Instruct your patient to contact OWP Pharmaceuticals at 1-800-273-6729 if they have difficulty filling their prescription at their local pharmacy or if they have any questions regarding their OWP Lamotrigine Starter Kit prescription.
Pharmacist Information – OWP Lamotrigine Starter Kits are available through the wholesalers Amerisource, Cardinal, McKesson, HD Smith, and others. If you have any questions, please contact OWP Pharmaceuticals at 1-800-273-6729.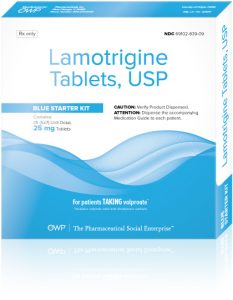 Contact Info:
Phone: 1-800-273-6729
If you have any questions, please contact us at info@owppharma.com
If you require further medical information, please contact us at medinfo@owppharma.com
If you want to report any adverse events, please contact us at safety@owppharma.com
OWOS1028V1 10/17